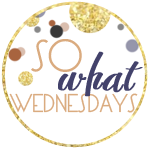 Today I'm linking up with
Shannon
and saying a bit fat SO WHAT if...
I've totally been doing a Betty White-esque 'Snow Dance' (reminiscent to the Lil' Jon Get Low version she does in The Proposal) every single day that we have snow or ice or -20 degree weather in our forecast. I have yet to see results, aside from pulling a few muscles.
I'm feeling so miserable and depressed lately. Definitely in my annual post-Christmas funk.
I'm super excited that it doesn't get dark til close to 5pm now. I love that the days are getting longer again.
I don't make specific or stressful 'resolutions' like "I want to lose 30lbs by July." or "I want to have my first child by December 2014." anymore. I think they're counterproductive. I'm a general 'goal' kinda girl now.
Speaking of 'goals'...I still haven't composed my '2014 Goals' blog post. Been meaning to do it for a week now. Hello procrastination.
I booked my Elementary Ed Praxis test last night. I take it in two weeks and I'm crapping my pants so much that I'm having nightmares. When I had to take my UK Praxis (QTS) test, it was the bane of my existence. I aced the reading and writing sections, but wanted to pull my hair out in the thick of obnoxious mathematical equations like "there are 409 purple aliens traveling in 674.2 flying saucers at a speed of 8939875 mph. What will they eat for breakfast?"
I hopped on the scale last weekend and turns out that over the last year I've gained 8lbs and my beloved running has taken a steep decline since the Color Run back in September. Monday I logged back on to my Weight Watchers account (O.M.G. batman! did you know that those delicious chocolate Costco muffins are 19 points each?! Whoops), and this weekend I'm excited to start running again. I miss it.
I'm currently obsessed with listening to The Pentatonix. How do people make noises like that with just their mouths? So amazing to me.
I've cried so much in the last week I fear my husband thinks I'm bi-polar. Emotional messbag is what I am.
I taught myself to crochet last week. I've already made hubby and I a cute (albeit slightly crooked) throw. I'm also currently halfway through a blanket for my sis and bro-in-law. Just call me Grandma.
I can't stop eating oranges.
I love the smell of Scotch Tape so much that I'll actually sit with a piece of it stuck to the end of my nose just so I can continuous breathe in the scent.
I watched You've Got Mail on repeat over the weekend.