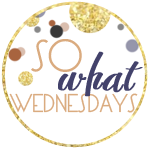 This week I'm linking up again with
Shannon
and saying a bit fat SO WHAT if...
I'm popping decongestant pills and Airborne like candy because I've got...wait for it...yet another cold. MERRY CHRISTMAS TO ME!
I've been listening to Christmas music 24/7 since the week of Thanksgiving and I'm still not sick of it.
I didn't want to pay to have my gel nails filled again, so I soaked them in acetone while watching 30 Rock, and then picked them off with nail clippers. It hurt. A lot. Learn from my mistake.
I'm regretting letting my husband choose our living room tv. Black Friday bit me in the bum. 55 inches? I'm pretty sure that's the size of China.
I made the mistake of laughing at one of my students when he looked me in the eye and said, as proud as a peacock: "Look! I'm pinkin' my nose and eatin' it!" Of course, after my lapse in teacher poker face, his finger was permanently in his nose the rest of the day.

I can't stop eating holiday cookies, or candy, or fudge. My ass is well and truly expanding.

I face planted walking to my car last night after work. Let it snow, let it snow, let it snow!
I'm on a French Onion soup kick again. I can't get enough.
I've secretly been drooling over everyone's ugly Christmas sweaters. I can't help it. I have some random desire to attend every single ugly sweater party in the land.
I always set a 'firm Christmas present budget' for my friends and family. And I always go over it.
I enjoy giving gifts more than getting them now. (If my 7 year old self could hear me now!)
I haven't done any form of exercise since my Santa 5k on the 2nd.
I'm genuinely afraid I won't make it through the rest of the week. The kiddos are well and truly full of piss and Christmas vinegar. Attention Parents! Wait until Friday evening to stuff your children full of sugar. Their poor teachers are sprouting grey hairs by the minute!