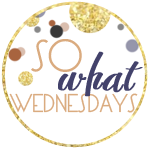 This week I'm linking up again with
Shannon
and saying a bit fat SO WHAT if...
All week I've been secretly praying for this huge storm to gift us a snow day today. I was so jipped.
I'll cry if the winds they're predicting in NYC keep the Macy's Day Parade balloons down tomorrow. I want Snoopie! I want Snoopie! I want Snoopie!
I can't/HATE to sleep in flannel PJ's. They make me sweat like a pig.
I don't understand everyone's infatuation with the 'sexiness' of John Stamos? He'll always just be Uncle Jessie in my eyes.
Yesterday I blew off a slice of orange that had fallen on the floor and ate it.
I think people who hock a loogie out of their car windows should be ticketed.
I'm a huge fan of HGTV. Love it or List it, anyone?
Christmas music has been blaring out of my car stereo since last Friday.
I am 100% obsessed with Nature Valley's new Cinnamon Brown Sugar Baked Oatmeal bars. Get in my belly!
If there were a perfume that smelled like Pine-Sol. I'd wear it.
I post pictures of my food on Instagram. Yep. I'm one of those people.
I'm infatuated with the man I just saw on the Today show who makes portraits out of pancakes.
I'm counting down the days to the Winter Olympics.
Sometimes I stick a piece of Scotch tape to the end of my nose just so I can soak up the smell.
I haven't run since I did the Color Run in September.
I plan to drink mimosas all day long and eat too many pieces of pumpkin pie tomorrow. The calories can kiss my ass.