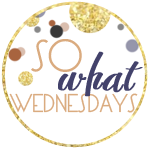 This week I'm saying a bit fat SO WHAT if...
This is the first time I've joined in the SO WHAT! fun in months. Months people! Such a slacker.
I've worn my hair curly for the last week because I've been too lazy to straighten it.
I wake up an hour and a half earlier than I need to every day just so I can watch the Today show before work.
If I had a million dollars I'd buy a Central Park apartment in NYC.
I have only purchased one Christmas present this year.
I'm running our families annual Santa 5k in two weeks and I haven't actually run since The Color Run in September. Wah-wah-waaaah.
One of my preschoolers continues to mispronounce The Gruffalo as The Buffalo and I don't correct her because I think it's adorable.com
I'm afraid to watch the Live Carrie Underwood Sound of Music on December 5th. Not because I don't love Carrie Underwood, but because even she can't top Julie Andrews.
I'm pretty sure the sequel they're making to It's A Wonderful Life will be poop. You just can't make a full color sequel follow a classic black and white. No bueno.
I actually like to play Skyrim on the Xbox with the hubby during our free time. Just call me Geek.
I'm currently obsessing over what pots and pans set to buy for our house.
I've eaten a handful of M&M's from the chocolate drawer in work every day this week. So naughty.
I've been putting off buying new snow tires until I really need them. Far.Too. Expensive!
I dream about french onion soup.
Our Jack-O-Lanterns are still rotting on the front porch.