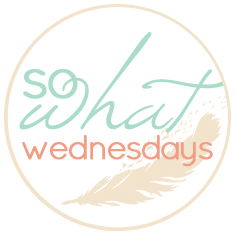 Happy Wednesday, love bugs!
As always I'm linking up with
Shannon
and saying a big fat
SO WHAT
if...
I'm so paranoid about the bear around our house that I spend the majority of my runs scanning the fields for a giant black blob. I'm still not sure what I'd do if I ever saw it, but you can bet your ass my pace would be awesomesauce that day.
I still haven't shared the photos from our Walk For Boston race on Sunday.
I hate American Idol. So last year.
I've been craving Butter Pecan ice cream so much lately I drool just thinking about it (too bad it's like 80 billion Weight Watchers points)
(Speaking of Weight Watchers)...I weighed myself last Monday to discover I'd gained 12lbs since I flew home from England last November. (BOO!) Thankfully that reality check was just what I needed to kick me in the ass and hop back on my dieting bandwagon. I'm happy to report that I weighed myself this Monday and am 5lbs lighter. Yay! Like a boss.
I've had 4 Dunkin Donuts Butter Pecan Iced Coffees in the last 2 weeks.
I'm obviously currently obsessed with all things Butter Pecan...
I've been so busy that I haven't read many blogs lately...or written much on mine.
I crack my knuckles all day long.
I always eat cake so fast that I get that nasty cake clog in my throat. And that shit burns! You'd think I'd learn.
I'm spending my days stalking eBay for deals on Polar Heart Rate Monitors.
I want to punch Nicki Minaj in the face and remind her that shes 30 years old not 19.
I'm so unbelievably excited for our first huge thunderstorm of the year.
I'd rather spend my money on cute pillow cases or workout clothes vs going out to a bar.
I don't like seafood.
I wish I could swim in a pool of spaghetti like that old woman in Patch Adams.