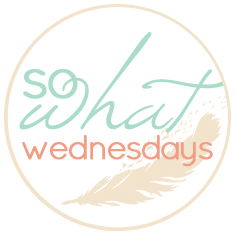 Happy Wednesday, love bugs!
As always I'm linking up with
Shannon
and saying a big fat
SO WHAT
if...
I'm laying in bed right now feeling sorry for myself because I was up all night best-friending it with the toilet. I must have eaten razors last week. That's all I'm sayin'.
Even though my stomach is awful I refuse to take Pepto Bismol because I'm pretty sure that crap tastes worse than vomit ever could.
I think whenever you refer to something as an 'it' the scariness of whatever the item may be goes up tenfold. For example: "it" was looking at me through the window at night. I saw "it" upstairs in the closet. I found pieces of "it" floating in my bowl of cinnamon apple cheerios. Stephen King is very clever.
I love pink and glitter and polka dots.
I used to be afraid of grass as a child.
I can't go into Barnes and Noble without buying a book.
Ever since Easter Sunday when my sister found a tick crawling on me, I've waken up in the night swatting at an imaginary army of them residing in our blankets.
I'm sad I have to wait another year for Free Cone Day.
I don't like Justin Timberlake's new song 'Suit & Tie.'
I wore a maxi dress last weekend because I thought it was finally Spring in Vermont and I froze my ass off the entire day.
Sometimes if I'm in a hurry at the grocery store and see someone I know I purposely avoid the aisle their in. (that really does sound even worse now that I've typed it out than it does in my head).
I have an unhealthy obsession with Dunkin' Donuts new Butter Pecan iced coffee. It's thebomb.com
I hate mayonnaise.

I cried my eyes out to Carl last weekend because I miss our apartment, friends and family in Liverpool.

The older I get the more the texture of melted mozzarella makes me gag.

I lost one of my birth control pills last night as I tried to pop it in my mouth (trust me I know how ridiculous that sounds) and I'm pretty sure it landed somewhere in my underwear drawer. No lie.

While running yesterday I tried to spit some of the nasty phlem-goo in my mouth into the grass on the side of the road (totally gross and not ladylike but you runners know what I'm talking about) and the wind blew it back on my arm and cheek. Yup.
I am OBSESSED with my I Don't Sweat I Sparkle shirt I bought from RufflesWithLove for my next 5k in a few weeks. And while I certainly don't need anymore workout shirts I'm in love with these two also.