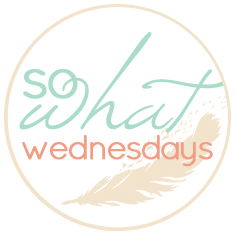 Happy Wednesday, love bugs!
As always I'm linking up with
Shannon
and saying a big fat
SO WHAT
if...
I even wore blue underwear yesterday for World Autism Awareness Day (to learn more about that, please read yesterdays post. It's near and dear to my heart).
The hubby and I have started saying 'that's what she said' at the end of practically everything.
I think Dropbox is one of the best inventions ever.
I'd planned to wear heels to work today...then I smartened up.
I'm the dumbass who walks into/headbutts open cupboards. At work. Where swearing is strictly prohibited because my kiddo is watching my reaction.
Every morning I do dorky things like stop to listen to the happy little birds singing. Their songs are the perfect reminder that Spring is FINALLY here.
I've had Rockin' Robin stuck in my head all day. Don't ask me why.
I promised myself I wouldn't start running in my new Nike Free Run+s until I start my half marathon training in July...But we all know I'm as patient as diarrhea after a plate of Chinese food... so I 'tested' them out today and took them for a short 2 miler. Friends, I am in love. They're truly the shit and I ran my fastest ever in them. I may or may not have shed a few tears as I forced myself to put them back in their box for 3 more months. Must be patient. Must. Boo!
I can't stand when people post 80 million 'selfies' a day. What's the point? Nobody needs to fish for compliments like that. Your head will grow so big it'll explode!
I eat spoonfuls of Cool Whip even though I know that crap is full of nasty chemicals.
(speaking of crap..) I ate an obscene amount of bite size Snickers bars over Easter. Pretty sure my butt grew like the Grinch's heart at Christmas.
I saw a wife run over her husbands toes with a shopping cart today in the grocery store and nearly peed my pants. I couldn't help it.
I almost always go 5mph over the speed limit.
My friends Theresa and Sarah introduced me to the new Snapchat app on Monday at our work meeting. Since then, I've sent some of the dumbest photos on it and I love that after 10 seconds they're gone forever. No one will ever know about our cross eyed shenanigans.
I drooled on my pillow last night and dreamed that Kelly Kapoor from The Office was rubbing vegetable oil on my feet while I was spinning at a gym in NYC. So weird.
I purposely ignore "Mike the Situation" type men who walk around with their shirts off because I think they're arrogant shit bags.
Your turn. What are you saying so what to this week?