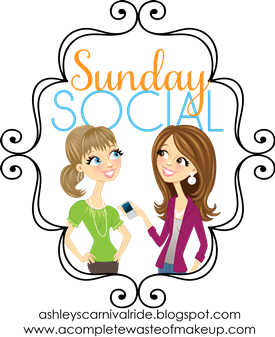 Happy Sunday, love bugs!
For months I've seen this cute Sunday Social link up floating around, and for months I've thought "that looks like fun!" but never ever got my ass in gear in time to participate. Well the times are a changin' my friends, cause here I am! Finally.
Yay!
This weeks questions are all about the fabulous number 5!
5 songs you'll listen to for the rest of your life:
Coldplay: Clocks
The Verve: Bittersweet Symphony
Hootie and the Blowfish: Time
Led Zeppelin: Kashmir
Coldplay: Yellow
5 things on your bucket list:
Go to Alaska and see the Northern Lights
Sky dive
Run a half marathon
Write a children's book
Go on road trip down Route 66 with my hubby
5 Celebs you'd love to hang out with for a day:
Nigella Lawson
Robin Williams
Chris Martin
Stephen Fry
Ellen DeGeneres
5 things you always carry in your purse:
Cell Phone
Gum
Chapstick/Lipgloss
Money/Wallet
Perfume
5 books on your reading list:
Sparkly Green Earrings
The Hunger Games: Mockingjay
Bloom (again - it's a book I like to re-read)
Safe Haven
Drinking and Tweeting
The last 5 photos on your phone: