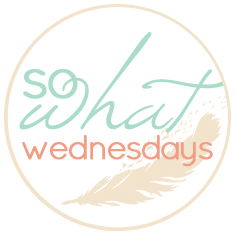 Happy Wednesday, love bugs!
As always I'm linking up with
Shannon
and saying a big fat
SO WHAT
if...
I'm finally completing this post at 8:30pm. In my sweaty workout clothes. While I eat Chicken In A Biskit crackers.
My sister and I started Les Mills Combat on Monday and while I am in excruciating pain, I'm officially hooked.
I bought a beautiful children's book written and illustrated by a Vermont author all about Maple Sugaring. I have an entire weeks worth of lessons planned around this book. Just need to get my own class...(good things come to those who wait, right?)
I wore the same socks two days in a row because this morning I was too damn lazy to make the trip down to the laundry room for clean ones.
I just admitted that nasty bit of info to the world on my blog...
I'm afraid of tadpoles. Ew.com
I'm not a fan of country music and I especially hate shitty Sugarland.
I think farting at the dinner table is a capitol offence. Who the hell wants to smell someones nastiness while eating? No one. That's who. Not even your dog.
I'm stalking our mailman because I can't wait for my new pair of hot pink and turquoise Nike Free Runs to arrive.
I refused to purchase them until I found a valid coupon code which got me $15 off and free shipping. Ha!
I'm not allowing myself to wear my new shoes until mid July when I start training for my half marathon (with my Twinnie, Jen! YAY!) because I have OCD and I want to keep them beautiful and pristine throughout the VT mud season.
On Saturday I ran my first 10k and by Sunday I'd registered for 3 more races and sweet talked my entire family into running the NYC Brooklyn Color Run in September (SO EXCITED!)
I still haven't actually composed a post about my 10k. This weekend. I promise.
When I was little the only reason I'd eat beets was because my Dad promised me they'd turn my pee pink. Clearly I've never eaten enough because to this day I'm convinced he's a liar.
I only started gargling with Hydrogen Peroxide a week and a half ago, but I'm already convinced my teeth are WAY whiter. Thumbs up.
I kick bathroom doors open after I've washed my hands because the thought of touching the germy door handle makes me gag a little.