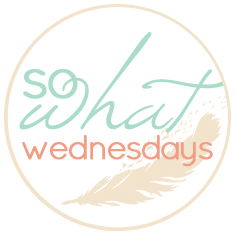 Happy Wednesday, love bugs!
As always I'm linking up with
Shannon
and saying a big fat
so what
if...
With a mouthful of gum, I started choking yesterday as I drove home from work. Something went down the wrong hole and I had to frantically power down my window in order to spit my gum out before turning blue in a ditch somewhere. In all of the commotion I may or may not have accidentally done this on one of Vermont's busiest roads, Route 7 (to out of staters it's really not that busy). Anyway, my gum/spit ball landed on some poor buggers windshield. I know this because in my side mirror I saw their windshield fluid spraying upward and their wipers frantically flapping back and forth. Awkward.
I hate the smell of roses.
I tried steamed Soy Beans for the first time in my life on Monday. Delicious.
I'm afraid to look outside at night for fear of eyeballs peeking back at me.
I gained 5lbs after returning home from England (I blame it on the Chicken in a Biskit crackers and VT Maple Syrup that I was deprived of for so long). I'm proud to report that since the beginning of Feb I've lost all 5lbs. Back down to my goal weight. Boom-chicka-wow-wow. Now Operation Tone Up has begun. Lord help me.
I've seen You've Got Mail and Wimbledon over 50 times each.
I sat in bed last night and read The Gruffalo. It's one of my favs.
I tried some Brazilian Butt Lift Zumba DVD last night with my sister. We looked like a pair of nerds. Especially during that 'sweep the sand' move. In fact we looked so ridiculous, I felt it only fair I rename the move spank the pony. Rude? Yes. But far more accurate.
I immediately scroll past blog posts on my reader that are sponsored.
I used to be afraid of deflated balloons when I was little.
I can't wait to be a Mommy.
My best friend is petrified of E.T. so I periodically 'E.T. phone home' when she least expects it. Also, laugh when my hubby posts E.T. pictures on her Facebook wall.
I prefer Emmy Rossum's voice in the film Phantom of the Opera to that of the actual Broadway Christine.
Sonya and I are already planning another visit to the Big Apple.
I'm unbelievably excited for Sunday's time change. Longer days = Spring and Summer are on the way!