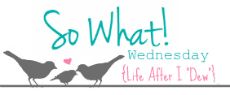 On this fine Wednesday I'm linking up with the lovely Shannon and saying a big fat SO WHAT! if...
I woke up this morning convinced it was Thursday.

I laugh when people fall over...unless they're seriously injured, then I panic.

I'm most excited to go to London again just so I can stuff my face full of Hummingbird Bakery cupcakes.

It annoys me that China has more Olympic medals than we do.
It also annoys me when these damn Olympic athletes participating in the Hammer Throw, Discus and Shot Put scream like they're being murdered after sending their object airborne. Just SHUT UP! You sound and look like you have rabies AND you're wasting more energy shouting like a lunatic than you would if you acted like a normal human being!

I could eat an entire bowl of raw chocolate chip cookie dough on a daily basis and die a happy woman.

I can't stand One Direction and wish they'd go live on a dessert island with Justin Bieber...and perhaps get abducted by aliens.

I think people who eat black pudding are controlled by the devil. Ew. Yucky. Ew.
If ever another person gets on the elliptical next to me I physically can't help myself. I have to beat them and run faster...even if that means I nearly collapse and die. This is why I treasure the days when a 65 year old man is my competitor. Ha!

I love grocery shopping. I'd do it every single day if I could.

I don't understand why anyone would want a bubble gum pink car.

When texting friends and family I use WAY too many exclamation points!!!

After a month of it sitting on my nightstand, I STILL haven't read 50 Shades of Grey. I'm a failure.
I went and saw Ted last weekend and I thought it sucked.
I've already started counting down the days until Christmas (and if you're a mad bugger like me and want to as well, this website is fantabulous).

I'm sick of summer and wish it were fall. I want pumpkin bread, spiced lattes and Vermont foliage.

I don't like that we've got robots on Mars. I'm convinced the entire story line of Prometheus is about to unfold in real life.

I don't find The Simpsons funny.

On a Friday night I'd rather stay in with my hubby to make homemade pizza and watch old movies like Planes, Trains & Automobiles.
What are you saying SO WHAT! to this week? Join us and share! :)
Lots of love, love, love,