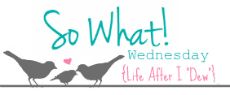 On this fine Wednesday I'm linking up with Shannon and saying a big fat SO WHAT! if...
I worked so hard on the Cross-trainer this morning I seriously thought I was dying and nearly puked right there in the middle of the Gym. My motto: no pain no gain.

I've been home from the gym for an hour now and I still haven't showered.

I am OBSESSED with the Olympics. For the past 6 days I haven't been able to peel my eyes away from the television, and until they're done I have absolutely no interest in normal TV.

Speaking of Olympics: I cried a happy tear or two last night as I watched Michael Phelps break the Olympic Medal Record by winning his 19th medal. He is now officially the most decorated Olympian ever. I'm bursting with pride for my country. USA all the way!
My favorite event of the Olympics is Diving because it means I can perv on all the hotties. And yes, I totally check out their 'goods'...you know you do too so don't act like you're disgusted. Ha! (that was the last Olympic related so what...I promise)

I saved 10 of my precious Weight Watchers points last night so I could eat a McDonald's Toffee Sundae. It was SO worth it.

Yes, I do only get veggies and cheese on my Subway sandwich. If you think that's weird, little snot nosed brat working behind the counter, you can take your stupid eyebrows and condescending facial expression and shove it where the sun doesn't shine.

I may or may not have listened to the Spice Girls during my workout this morning...

I love the smell of burnt matches.

I'm too damn nosy for my own good and I love to look in peoples windows as I drive by their houses.

I think eyebrows that are drawn on look stupid and remind me of a drag queen.

My favorite color is no longer purple. I'm now obsessed with turquoise, sage green and coral (yes I'm allowed 3 favorite colors).

I bought clothes for fall yesterday AND I got eggplant and turquoise skinny jeans AND

I totally did a happy dance in the dressing room as I can now fit into my goal pant size of an 8 (UK 10). Yay!
I always get all nostalgic and emotional when I see an old couple kissing or holding hands. I then spend the next 5 minutes picturing Carl and I at that age.

I'm in my mid 20s and still obsessed with Disney movies.

People who take 8047 million self portraits on a daily basis (and post them on every form of social media) aggravate me.

I'm a big fan of the whole 'florescent colored clothing' thing at the moment.

I sometimes look forward to cold rainy days like today because it means I can snuggle up in bed with a cup of tea and good book.
What are you saying SO WHAT! to this week? Join us and share! :)
Lots of love, love, love,