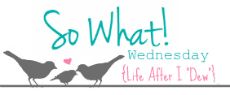 On this fine Wednesday I'm linking up with the lovely Shannon and saying a big fat SO WHAT! if...
I was an epic blog posting failure last week and it's now trickled into this week too. Oh well, at least I finally managed to masterfully create a cute little video and blog about our Wales trip. Feel free to humor me and ooooh awwww over my Windows Live Movie Maker success. I'm super proud. Click here to read/watch that post :)

I'm still obsessing over that Bridier Baubles Coco necklace in Pumpkin I talked about last week. Get. Out. Of. My. Head!

I LOVE watching The Biggest Loser and I cry EVERY SINGLE episode.

There are days I miss my long hair and wish I'd never cut it. But then I fall back in love with my bob and make another hair appointment with my friend Mel. Next week I just so happen to have one of those hair appointments. Thinking about switching it up from the Victoria Beckham bob this time and going for this hair style. What do ya think?
I've eaten some form of soup every single day for the past week.

I want to punch people in the face who complain and rant about things that haven't got the faintest idea about. Just shut up and go cool down in a dark closet somewhere. Spare me your ignorant ramblings, please!

I only lost 3/4 lb last week. Poop. These last 7lbs are proving to be ridiculously hard to shift. They're like that nasty black mold in bathroom tile grout that even bleach can't phase. Neverthless I'm trying to remind myself it's not about what the scale says and smile at my achievements. For example I can comfortably fit into the smallest jean size I've ever owned. Snap! Obviously the hours and hours at the gym each week are truly paying off and for the first time ever I feel comfortable in my own skin. So take that, pesky 7lbs. Take that.

I can't wait for snow storms and hot cocoa.

I have the paint colors and wall paper designs already picked out for mine and Carl's house...that we don't even own yet.

I've been absolutely terrible at responding to comments lately. I'm sorry guys - I promise that's a thing of the past.

I suck at the drums on Rock Band. That whole tapping the bass pedal at the same time as hitting that crappy plastic round thing...obviously too complicated for my pea brain. But I don't know why I'm surprised - coordination has never been my thing.

I don't like hamburgers. I know, I know... I'm American and they're one of the quintessential 'American foods.' Tough shit. Take that condescending eyebrow elsewhere pal, burgers, and all other forms of ground beef, are gross.

I unfollow people on Instagram who constantly post self portraits. There's only so many times I can stomach the same head shot.

I love BLT's. Only without the T and dipped in ranch dressing. Okay, so I guess I like BLR's. Whatever.

I have to peddle faster than the person next to me on the bikes at the gym. It's a sickness. I can't help myself.

I haven't brushed my hair today.

I can't stop dreaming about The Hummingbird Bakery red velvet cupcake I get to devour next week.

I'm sad that the days are getting shorter and pretty soon it'll be dark 60% of the day.
What are you saying SO WHAT! to this week?
Lots of love, love, love,