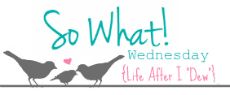 On this fine Wednesday I'm linking up with the lovely Shannon and saying a big fat SO WHAT! if...
I use too many pictures in my So What posts.
I had such a bad headache last night that I skipped, for the first time in 4 weeks, my 30 Day 300 Ab Challenge. I'll make up for it in the gym today.

I've had a Facebook friend clear out today and it felt AMAZING! I'm at a point in my life where I don't feel the need to have a gazillion online friends (most of which I haven't spoken to in years) watching my every move. Some people are too damn nosy for their own good and they can go be nosy elsewhere.
I am completely OBSESSED with Bridier Baubles Coco Necklace in Pumpkin. It's so gorgeous and would fit in with all of my Fall attire perfectly. Nevertheless, I'm doing well in resisting the temptation to add to my Bridier Bables collection as it truly isn't a necessity. Man, growing up and being responsible sucks.
Speaking of Fall attire...I may have (although I truly didn't need to) purchased this adorable chevron sweater at Boohoo.com. Although, in my defense, it was %75 off in the clearance blow out sale. I got it for a whopping £4, people! Be proud of my bargain hunter skills!
I'm making my family Gino D'Acampo's Neapolitan Calzones again tonight...this will be the 2nd time within the space of a week. Ah well, nobody's complaining and I can stuff mine full of veggies. And after all, dinner could be much, much, worse. At least it's not chicken nuggets.
I am infatuated with The Great British Bake Off. It is BY FAR my most favorite show on English television. If you love to cook/bake, you simply must click the link above and watch. I promise you'll die happy if you do...and suffer from a throbbing sweet tooth for remainder of your day.

My infatuation with polka dots has reached a whole new level. Not only am I wearing them on nights out (I mean, duh!)...
But I am now polka dotting my nails as well...
I've walked into our bedroom door handle so many times over the past few days that I have a MAHOOSIVE bruise on the side of my thigh. People are going to start to think Carl thumps me. Haha!

I know that there are only 124 days left until Christmas...(Don't judge. Santa is watching!)

I have to sleep with a fan blowing on my face all night.

I smell every single piece of food before I eat it.

I'm already dressing as if it were Fall and I'm counting down the days until Starbucks releases their Pumpkin Spice Latte again.
What are you saying SO WHAT! to this week? Join us and share! :)
Lots of love, love, love,