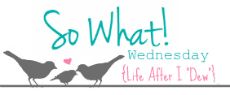 It's hump-day again, lovelies! And that means I'm linking up with the fantabulous Shannon and saying a big fat SO WHAT! if...
I set my alarm for 8am this morning and didn't wake up until 9.

I secretly love dorktastic and utterly ridiculous shows like Mob Wives and Desperate Housewives. Can't help myself. I'm a freak for bad TV.

I genuinely wish I could work in Carlos Bakery with Buddy Valastro and his nutso family. I LOVE them. Like stalker love them. I also often wish I had been born into a big Italian family because I'm pretty sure my loud-mouth would fit right in.

I truly don't understand the latest fad/everyone's obsession with wearing jewelry that has spikes coming out of every which way. Seriously? Why? Not only does it look like dog collars but I'm pretty sure they must stab you at some point during the day. Ouch?

I'm on a diet and I ate a big fat Lime Curd and Coconut cupcake yesterday. It was delicious people, DELICIOUS! Drool away friends...
I can't stand Justin Bieber and wish he'd get his pansy-ass off of every freakin' TV/radio station in the land! He's like an annoying bug bite that I just want to scratch and dig away at but I know is better left alone. Just go away, Justin! You 18 year old little turd! You suck and you'll never compare to my childhood heartthrobs Leonardo DiCaprio or Jonathan Taylor Thomas!

I found the most ADORABLE polka-dot dress for a 4-5 month baby girl in a local shop yesterday. I actually considered buying it for my 'future child.' Thankfully, the ridiculousness of my baby-fever-induced actions hit me and I hung it back on the rack...

I rant while watching the news.

I don't like McDonalds, Burger King, Wendy's or KFC.

I've been a hormonal/emotional wreck this week. I may or may not have sobbed uncontrollably while reading one of Kelle Hampton's posts about her girls.
I've been meaning to buy and read Kelle's book Bloom for MONTHS and still haven't. I'm an epic book failure!
Yet more proof that I'm a book failure is that Fifty Shades of Grey has been sitting on my nightstand -unopened- for nearly 2 weeks now. Must sort that out pronto.
I get serious road rage behind old fogy's who drive 20 mph under the speed limit. They should invent 'Old Fart' lanes where the elderly can congregate for their Sunday strolls...which they partake in every single day of the week.

I lost another 2.5 lbs last week and shamelessly bragged about it on my Facebook status...and now my blog. Yay! :)

I day dream about the days when I'll get to bake cookies, build blanket forts and roll snowmen with my children.

I'm embarrassingly excited for the London Olympics to start on Friday! I've never been so close to where the games are held and I'm looking forward to the buzz of excitement that'll engulf the entire United Kingdom. Bring it on!
What are you saying SO WHAT! to this week? Join us and share! :) (feel free to take a peek at this weeks Stop and Smell the Roses Vlog! Go on, you know you wanna!)