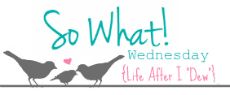 Well folks, It's that time of the week again! I'm linking up again today with Shannon
and saying SO WHAT! if...
I ate two red velvet cupcakes yesterday. TWO! But to be honest, it's my birthday/PGCE graduation week and my diet can kiss my ass if it thinks it's ruining my party fun. Pfffft! Bring on the calorific yummy food for the next 4 days! I'll deal with the consequences next week.

Saturday is my Bachelorette party (almost exactly a year after I got married). Our small English wedding was planned in a total of 5 weeks. 5 WEEKS PEOPLE! It was a last minute decision (I'd always refused to have a wedding in England as I didn't want people to think I was being spoiled by having another one at home where my friends and family could participate) and it was hastily planned around the time my parents and grandmother were visiting England for my graduation. We did it for our English family and friends who might not be able to make the big journey across the pond for the 'big one' next year. Don't get me wrong, it was lovely and a day Carl and I will remember forever, but it wasn't the wedding I'd always dreamed about. I wore a dress I chose by myself one day from a department store clearance rack. My sister wasn't there as she couldn't make it over in such short notice. I didn't walk down the aisle of a church. There were no bridesmaids, groomsmen or flower girls. Carl and I have never had a first dance and I never danced with my Daddy. I never got to throw my bouquet and we've not yet escaped somewhere hot together for a honeymoon. Our 'proper' wedding (where I FINALLY get all of those things I've dreamed about since I was 4) is next October and I am so excited I can barely stand it. But on Saturday my best friends in England are throwing me a Bachelorette party before I go back home. It means so much to me that I still get to do the traditional stuff (even if it is a bit backwards) and I feel like crying just thinking about it. I'm so lucky to have such great girlfriends who have made such an effort to make me smile and feel like a special 'bride'. I'm going to miss them all so much. (stay tuned for those photos. I'm sure they'll be rude and slightly inappropriate).

I HATE the smell of tuna fish and deviled eggs. They make me gag.

I'm absolutely terrified of tornadoes (this stems from experiences in Florida as a child) yet one of my all time favorite movies is Twister. And what's even weirder is that I'd jump at the chance to be a Storm Chaser for the day. What can I say, I'm a freak.

I've changed my favorite color from purple to sage green.

On Friday evening I plan to consume vast amounts of wine while at my graduation dinner in my fav Italian Restaurant, Ruis.

I saw a little kid get pooped on by a seagull last week (and cry) and I very nearly pissed my pants from laughing. Does that make me a bad person?

I'm about to plunk down on the couch with my Mother-in-law and sip tea while eating another cupcake. This time it's a lemon curd and I just might lick all of the extra frosting and crumbs off of the plate.