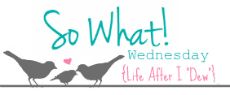 Well folks, It's that time of the week again! I'm linking up on this 4th of July with Shannon
and saying SO WHAT! if...
I cried this morning when I woke up and realized I'd miss out on yet another year of 4th of July celebrations. I feel so left out and un-patriotic. I hate that.

I was naughty and indulged in a McDonald's Toffee Sundae last night. Now, I could try and lie to you and pretend I caved in and ate it as a result of Independence Day celebrations, because seriously...who eats healthy on the 4th of July? But really the truth is that I just wanted a bit fat sugary bowl of ice cream and caramel. And ya know what, it was SO worth it.

I hate tomatoes but practically drink ketchup.

I think it's gross when people don't brush their teeth before bed AND when they wake up in the morning. Ew.

I'm obsessed with everything polka dot. For cereal. Every single thing.

I despise the little Chihuahua that belongs to my in-laws neighbor (which I lovingly refer to as 'the little rat') and if the little shit doesn't stop barking I just may go mad, break into their house, assist it in making an escape and hope that someone who resides in Australia loves rodents and steals it.

I considered purchasing little girl baby clothes (which were polka dot, obviously) yesterday when we don't have children and I'm not even pregnant. Haaaha!

I'm just like my father in that one of my biggest pet peeves is when people chew with their mouths open. I mean come on, people! Who the hell wants to listen to your lips smacking and see the soggy food tumbling around your yap? Not me. That's a whole new level of yucky.

I'm a girlie girl who likes make-up, sparkles and the color pink...if you don't like that then by all means, PLEASE keep your miserable sparkle hating comments to yourself.

I LOVE the smell of burnt matches and blown out birthday candles. If they could capture that smell and make it into a perfume, I'd seriously buy it. Just as I'd buy Pine-Sol perfume if there were such a thing. I know this is weird but it's true. Haha!

I am PETRIFIED of jelly fish. Hence why I don't go swimming at the beach in England. It's infested with the nasty little buggers!

I've shamelessly taken pictures of my brand spakin' new hair-do (courtesy of my hair dressing friend, Mel! Thanks petal, I love it!) and posted them all over every single social networking site I'm a part of (and now my blog...)
Well that's all for me this Wednesday! I hope you all enjoy your 4th of July celebrations! Be sure to stay safe and smile too much.
God bless the USA, my home sweet home :)